EIN Presswire | Newsmatics
Eastchester's Rev. Eric J. Hall Launches 'Come To Me' on Amazon
News provided by
EIN Presswire
May 26, 2023, 4:18 AM ET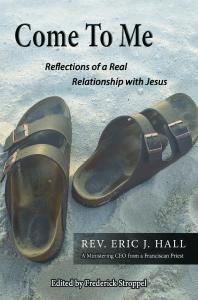 Too often we get lost in scripture, traditions and religion. "Come to Me" invites you to experience the resurrected Jesus, to be immersed in a living encounter with Jesus.
New Book Features Pastor's Reflections of a Real Relationship with Jesus
EASTCHESTER, NY, UNITED STATES, May 26, 2023/EINPresswire.com/ -- Glen Cove resident, author and minister, the Rev. Eric J. Hall, invites readers to embark on a transformative journey with his new book, "Come to Me: Rev. Eric J. Hall, A Ministering CEO from a Franciscan Priest." Released in May, this compelling work challenges traditional notions of faith and spirituality, offering a fresh perspective on the power of a personal relationship with Jesus Christ.
In "Come to Me," Hall deeply explores scripture, traditions, and religion. Drawing from his experiences as a former Capuchin Franciscan Friar and current pastor at Eastchester Community Church, Hall delivers a captivating message that transcends the boundaries of organized religion. He emphasizes the importance of encountering the living Jesus and embracing His presence for spiritual growth, personal transformation, and a life filled with meaning, purpose, and love.
The book resonates with readers who have questioned the depth of their faith and those who have felt disconnected from religious institutions. Hall challenges the notion that belonging to a church is equivalent to having a genuine relationship with Jesus, shedding light on the profound difference between religious practices and an intimate connection with the divine. Through personal anecdotes and thought-provoking insights, he encourages readers to trust in Jesus's living presence and embark on a journey of authentic faith.
Hall's own remarkable journey adds depth and authenticity to the book. Ordained as a Roman Catholic priest in 1996, Hall has dedicated his life to serving God and ministering to others. After discerning a new path, he took a leap of faith and found his calling at Eastchester Community Church, where he has served as pastor for more than two decades. His sermons, which reach thousands through social media platforms such as Facebook, YouTube, and TikTok, have inspired and touched countless lives.
In addition to his pastoral work, Hall is President and CEO of HealthCare Chaplaincy Network, a globally recognized nonprofit organization that advocates for integrating spiritual care into healthcare. He is also the visionary behind Spiritual Care Association. This groundbreaking membership program provides evidence-based training and certification for chaplains, nurses, social workers, first responders, military personnel, and other professionals. Recently, Hall assumed the esteemed positions of President and Chancellor at CAPSTONE University in Tacoma, Wash.
A portion of the proceeds from the book will also benefit the Spiritual Care Association and support the mission of Eastchester Community Church. "Come to Me: Rev. Eric J. Hall, A Ministering CEO from a Franciscan Priest," is now available for purchase on Amazon and Barnes & Noble, offering readers a transformative journey toward a genuine relationship with Jesus Christ.
About Eastchester Church
Eastchester Community Church is a vibrant and welcoming congregation committed to nurturing authentic faith and spiritual growth. Through inspiring sermons and a strong online presence, Eastchester Church has become a beacon of hope, embracing individuals from all walks of life and empowering them to develop a meaningful relationship with God. Learn more at https://www.eastchesterchurch.org.
About Healthcare Chaplaincy Network
HealthCare Chaplaincy Network™ (HCCN) is a global nonprofit organization founded in 1961. Dedicated to integrating spiritual care in healthcare, HCCN offers clinical practice, research, education, and professional chaplaincy services. Their mission is to enhance the patient experience and well-being and provide comfort and meaning during illness and grief, regardless of beliefs or backgrounds. Learn more at https://healthcarechaplaincy.org.
About Spiritual Care Association
Spiritual Care Association (SCA) is a pioneering, global professional membership association for spiritual care providers, setting the stage for multidisciplinary collaboration. With a focus on evidence-based quality indicators, scope of practice, and a robust knowledge base, SCA is at the forefront of advancing the field of spiritual care. Learn more at https://www.spiritualcareassociation.org.
About CAPSTONE University
CAPSTONE University, led by President and Chancellor Rev. Eric J. Hall, is an esteemed institution in Tacoma, Wash. With a commitment to cutting-edge education, CAPATONE provides a transformative learning experience for students and fosters innovation in various disciplines. Learn more at https://capstoneuniversity.org
About the Author
Rev. Eric J. Hall, a respected minister and visionary leader, is President and CEO of HealthCare Chaplaincy Network, a global nonprofit organization, and President and Chancellor of CAPSTONE University. His work revolutionizes the integration of spiritual care in healthcare and the education of spiritual healthcare and the education of spiritual care professionals.
MOLLY SABALA
Eastchester Community Church
email us here
Visit us on social media:
Facebook
YouTube
TikTok
NOTE: This content is not written by or endorsed by "WIVB", its advertisers, or Nexstar Media Inc.
For inquiries or corrections to Press Releases, please reach out to EIN Presswire.