EIN Presswire | Newsmatics
13th Annual Cyber Security Summit Announces 2023 Visionary Leadership Awards hosted by Red Sift
News provided by
EIN Presswire
Sep 19, 2023, 7:29 PM ET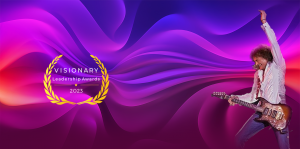 Visionary Leadership Awards graphic featuring Rock Star Domenick Allen from Foreigner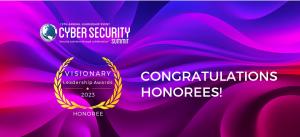 Visionary Leadership Awards Congratulations Honorees
Sponsor Red Sift
Awards will be presented to nine honorees on Wednesday, October 25, 2023, at the Minneapolis Doubletree Hilton South.
I can still remember the amazing feeling when I won a Visionary Leadership Award in 2016."
— Chris Buse, 2023 CSS VLA Committee Chair
MINNEAPOLIS, MINNESOTA, UNITED STATES, September 19, 2023/
EINPresswire.com
/ -- What was once news of an occasional data breach has become a daily barrage of security incident headlines. Compromised networks, stolen financial and intellectual property, and crippled infrastructure hit both corporations and citizens hard. Often missing from the featured cybercrime stories is the amazing network of security professionals who work behind the scenes to stay ahead of ubiquitous bad actors. The
Cyber Security Summit
recognizes these visionary academic, industry and government leaders who continuously support the projects and programs that better educate, equip, and protect people from harm.
"I can still remember the amazing feeling when I won a Visionary Leadership Award in 2016. Over the years we made the recognition event more fun for the award winners; this year we are again bringing in Domenick Allen, a rock and roll legend from Foreigner."
- Chris Buse, CISO, Old Republic National Title Insurance Company / VLA Committee Chair
The Honorees
VISIONARY ACADEMIC LEADER > Dr. Sylvain P. Leblanc, CD, PEng > Professor of Computer Engineering and Chair for Cyber Security, Royal Military College of Canada
Dr. Sylvain (Sly) Leblanc is a Professor in Computer Engineering, Chair for Cybersecurity, and Primary Investigator of the Computer Security Laboratory at the Royal Military College of Canada. His research interests include cybersecurity and cyber operations with major efforts in vehicular systems, network counter-surveillance, deception operations, vulnerability & security assessments, and cyber education. He developed his interest in cybersecurity during his career as a Canadian Army signals officer.
VISIONARY APPLICATION SECURITY LEADER > Ashley Mancuso > Vice President, MedTech BISO & Product Security, Johnson & Johnson
Ashley Mancuso is VP, MedTech BISO & Product Security at Johnson & Johnson and is responsible for securing all MedTech information assets and product security functions. Ashley holds a bachelor's degree in decision and information science from the University of Florida.
VISIONARY GLOBAL SECURITY LEADER > Kavitha Srinivasulu > Global Head Cyber Risk & Data Privacy -BFSI R&C - TATA Consultancy Services (TCS)
Kavitha Srinivasulu has 20 years' experience in cybersecurity, privacy and business resilience across banking and financial, retail, manufacturing, healthcare, information technology and telecom domains. She has expertise in risk advisory, business consulting and delivery assurance with diverse experience across corporate and strategic partners.
VISIONARY GOVERNANCE CHAMPION > Scott Singer > CEO, CyberNINES > Interim Managing Director, University of Minnesota, Center for Medical Device Cybersecurity
CAPT, USN (retired) Scott Singer served in active duty and reserve roles for more than 30 years and has 31 years of industry experience. Scott is Chief Executive Officer of CyberNINES, an authorized C3PAO. Scott has a master's in information systems from the University of Minnesota Carlson School of Management, and bachelor's in meteorology from the University of Wisconsin Madison.
VISIONARY GOVERNANCE, RISK, AND COMPLIANCE LEADER > Matthew Vatter > Operations Executive, Accelerate2Compliance
Matt Vatter is the Operations Executive at Accelerate2Compliance where he helps develop policies, programs and training needed to meet client information security compliance requirements. Matt has a bachelor's in secondary education and a Master of Science in strategic studies from the University of Wisconsin Madison. He has a master's in security technologies from the University of Minnesota, where he serves as an advisory board member to the Technological Leadership Institute.
VISIONARY SECURITY AWARENESS PROGRAM LEADER > Dawn McCarty > Founder/CEO, Securing Everything
Dawn McCarty has more than 20 years of information and cyber security experience. She has four academic degrees, including an MBA in cybersecurity. Dawn has collaborated with corporations including IBM, Disney, and the U.S. Department of Energy, and her mission is to educate and mobilize the largest global army - the public – as the first line of defense against cybercrime.
VISIONARY SECURITY OPERATIONS LEADER > Jen VanDemmeltraadt > Deputy CISO/ICAM Manager, State of Minnesota
Jen VanDemmeltraadt is Interim Deputy CISO to the State of Minnesota, and spent nine years at the judicial branch laying the foundation for the cybersecurity program before returning to the executive branch, where she uses her experience and understanding to identify strategic objectives and cyber program recommendations. Jan also mentors women who are pursuing cybersecurity and STEM careers.
VISIONARY SECURITY PROGRAM AND OVERSIGHT LEADER > Judy Hatchett > Vice President and Chief Information Security Officer at Surescripts
Judy Hatchett is VP and CISO at Surescripts, where she sets the vision, develops plans and oversees the execution of enterprise information and physical security, business continuity and risk management programs. Judy is President of the Women in Cyber Security (WiCyS) MN affiliate, and has a bachelor's in organizational studies from Bethel University and a master's in security technologies from the University of Minnesota Technological Leadership Institute.
VISIONARY STUDENT > Derek Walker> Student, Metro State University.
This award recognizes a student who has demonstrated outstanding leadership and/or contributions.
Derek Walker is a senior studying cybersecurity at Metro State University and works full-time as an information security analyst. His passion lies in simplifying cybersecurity for small and medium-sized businesses. Derek is known as a mentor who shares his time to inspire and guide his peers to success.
About
Red Sift
The Red Sift Pulse Platform solves for the greatest vulnerabilities across the complete attack surface. By providing comprehensive coverage of an organization's digital footprint through best-in-class discovery and monitoring, Red Sift enables users to proactively uncover threats within email, domains, brand, and the network perimeter. Paired with sophisticated remediation capabilities, Red Sift provides organizations with the tools to shut down phishing and ensure ongoing compliance with email and web security protocols.
Red Sift is a global organization with offices in North America, Australia, Spain, and the UK. It boasts an impressive client base across all industries, including ZoomInfo, Athletic Greens, Pipedrive, and top global law firms. Red Sift is also a trusted partner of Entrust, Microsoft, and Validity, among others. Find out more at
https://www.redsift.com
.
About the Cyber Security Summit
The Cyber Security Summit in Minneapolis is the original global cyber security event, and the collaborative work of fifty Think Tank Advisors from across the industry, with additional support from corporate and industry partners.
Elizabeth Stevens
The Event Group - Cyber Security Summit
elizabeth.stevens@eventshows.com
NOTE: This content is not written by or endorsed by "WIVB", its advertisers, or Nexstar Media Inc.
For inquiries or corrections to Press Releases, please reach out to EIN Presswire.