(WIVB) – There will be no criminal charges filed against State Sen. Chris Jacobs after accusations of voter fraud.
Jacobs is running for the 27th District seat in Congress.
A complaint alleged that Jacobs lives in a home in Buffalo instead of the one he bought in Orchard Park. The Orchard Park home is in the 27th District.
The first of the three complaints accuses Jacobs of purposefully putting the address of an orchard park home he wasn't living in on his petitions.
Flynn says there was no malicious intent and no proof that Jacobs "intended to defraud" anyone.
The other two complaints accuse Jacobs of illegal voting and false registration in Orchard Park last fall.
Flynn says Jacobs purchased his Orchard Park home months prior, in June 2019, closed on the home on September 30th, and has continued to pay utility bills there and put hundreds of thousands of dollars into it.
"I'll concede that when [Jacobs] registered to vote on September 3, he hadn't closed yet, alright. Was that the smartest thing to do? Probably not," Flynn said. "But it's not criminal. He didn't have any intent to defraud anyone at that time."
Flynn explained it's legal to have two homes, and Jacobs has not hid the fact that he also has a house in Buffalo.
"He readily admitted that during the COVID-19 crisis, he lived more so at his home in Buffalo because his mother lives near him, and he wanted to be near his mother to stay and help his mother out during the COVID-19 crisis."
Flynn did not reveal who filed the complaint, but Jacobs' statement says it was his rival for the primary, Beth Parlato.
Her campaign's statement doesn't acknowledge or deny that, simply calling Jacobs a liar, and saying voters can't trust him.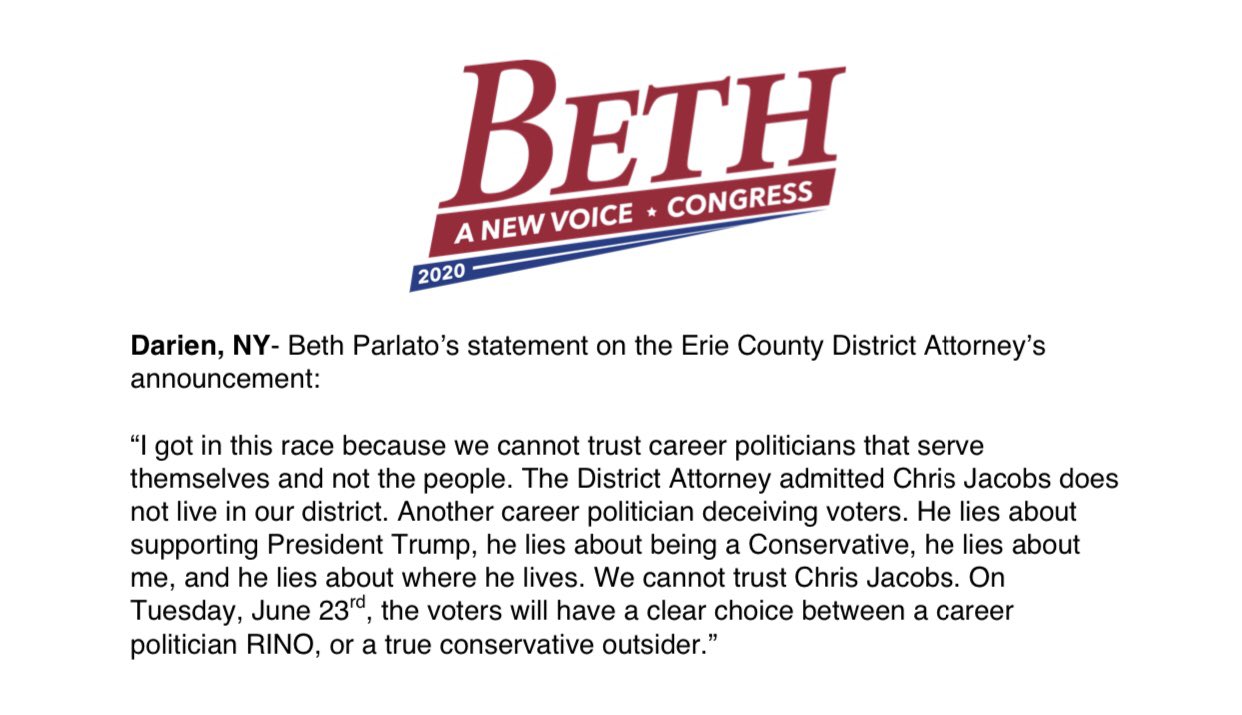 Senator Jacobs did not respond to requests to do an interview with News 4 Friday afternoon.
Prior to all this, Flynn had said he wasn't going to reveal who the complainant was, but still made clear he was not thrilled about this and recognizes this election is a high profile race.
"I'm being used here to a certain extent Okay? I didn't just fall off the turnip truck, alright? I've been around a long time. I've done a lot of things," he said. "I think it's pretty weak that you don't reveal who you are, so I will say that publicly, which the complainant is not going to want to hear, not going to like to hear that. Too bad."
And although Flynn acknowledges some things people saw at Jacobs' two homes may have looked questionable, the current evidence isn't enough.
"At this point right now, I have nowhere near the evidence that I'd need to go into court and prove beyond a reasonable doubt that this is a sham residence. Like, literally, nowhere near it. It's not even close, quite frankly," Flynn said.
State Sen. Jacobs' statement Friday afternoon thanked the DA for his swift dismissal of "Beth Parlato's phony complaint".
Erica Brecher is an anchor and reporter who has been part of the News 4 team since 2018. See more of her work here.