Choosing the right food preservation method
Chewy jerky, dried fruits and vegetables, dog treats — foods such as these have been preserved for longer shelf life. Freeze dryers and dehydrators both preserve food, but in different ways and with different outcomes. They also vary in size, weight, cost and how long the process takes. Your food preferences and budget will largely influence the decision between a freeze dryer and a dehydrator.
Shop this article: Harvest Right Medium Home Freeze Dryer, Hamilton Beach Digital Food Dehydrator, Nesco Snackmaster Pro Food Dehydrator
Freeze-drying vs. dehydrating process
Both freeze dryers and dehydrators function by reducing the moisture in food. This is a crucial step in food preservation; moisture leads to decomposition and facilitates mold and mildew growth. While united by a common goal, freeze dryers and dehydrators function differently.
Freeze dryers work by freezing food, then reducing pressure and adding heat. Increasing the temperature heats the frozen water in the food, changing the water into vapor. A dehydrator air dries food at low temperatures. This lower heat level means that the food does not cook in the machine. It takes 20 to 40 hours to complete the freeze-drying process, whereas dehydrating takes 8 to 10 hours.
Shelf life of freeze-dried vs dehydrated food
The freeze-drying process removes up to 99% moisture, resulting in preserved food that can last for 25 years or more. Dehydrating, on the other hand, only removes 85 to 95% moisture, resulting in a shelf life of several months to a year.
Different food outcomes
Freeze-drying generally results in crunchier food, since more moisture is removed in the process. Dehydrating, on the other hand, produces a chewy or crispy texture, depending on how much moisture is removed.
Dehydrated foods have a shriveled appearance, and the original flavor may change in the drying process. The food can't be rehydrated to its original state, and nutritional benefits are diminished from the heating stage. Many foods are great candidates for dehydration, but some are not. Food with high fat or oil content, such as avocados and peanut butter, does not dehydrate well. If you plan on dehydrating meat, be sure to trim the fat beforehand.
Freeze-dried foods largely retain their original appearance and flavor after being rehydrated. You can freeze-dry a variety of foods, but anything with a high concentration of sugar or fat should be avoided. Foods such as honey, mayonnaise, butter and syrups will not dry properly.
Size and weight considerations
Freeze dryers are larger and take up more space in the kitchen compared to dehydrators. Some freeze dryers rival refrigerators in size, while most dehydrators can fit on a countertop. Weighing over 100 pounds, freeze dryers are also a lot heavier than dehydrators, which tend to weigh between 10 and 20 pounds.
Freeze dryer vs. dehydrator cost
Freeze dryers are significantly more expensive than dehydrators, with basic models ranging from $2,000 to $5,000. Dehydrators are priced more affordably, typically between $50 and $500.
Best freeze dryers
Harvest Right freeze dryers
Freeze dryers are much less common than dehydrators, and Harvest Right is a leader in this category. The following Harvest Right freeze dryers come with all the necessary supplies to start freeze-drying right away, and they're compact enough to fit on most countertops.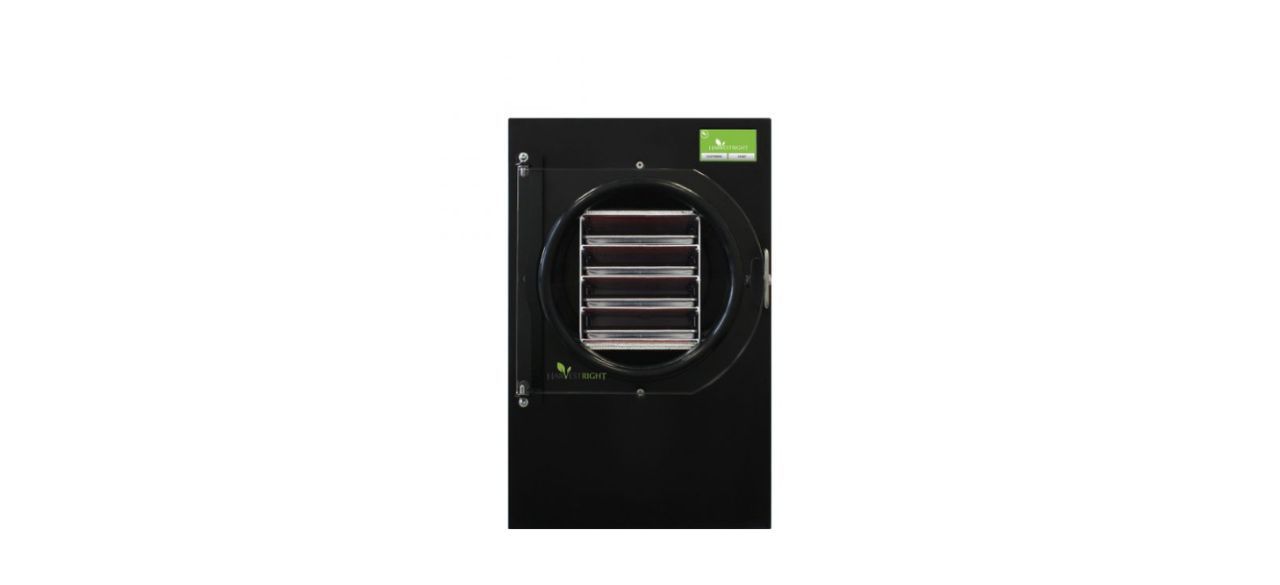 Harvest Right Medium Home Freeze Dryer
This top machine is great for most households, capable of freeze-drying 8 to 13 pounds of food per batch and up to 1,450 pounds per year. The four-tray freeze dryer weighs 112 pounds.
Sold by Harvest Right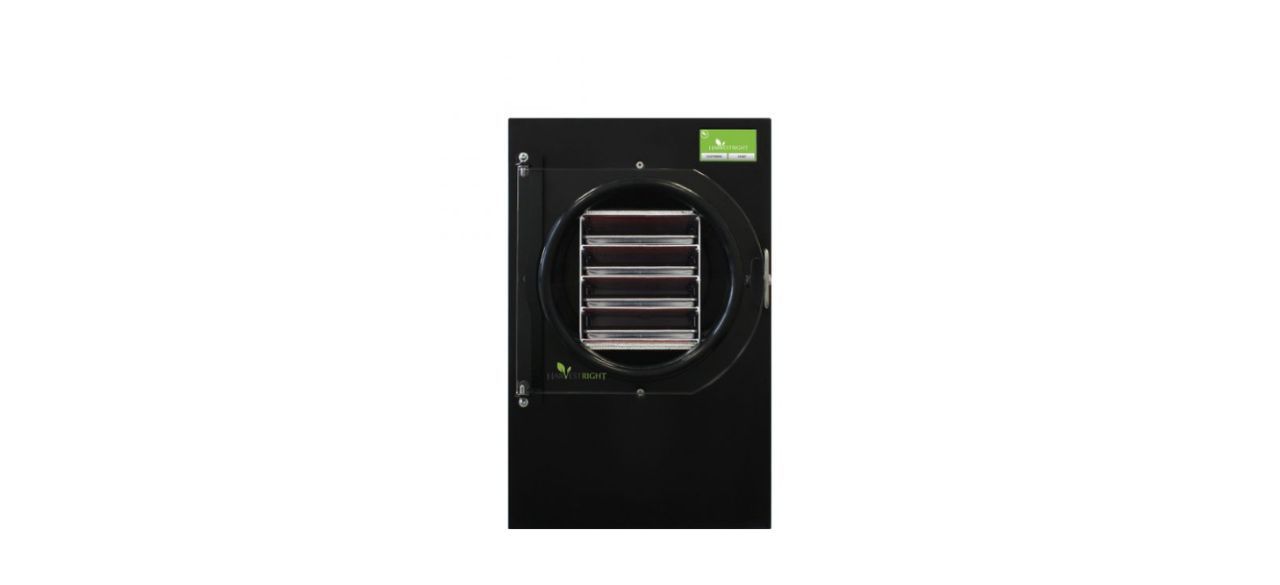 Harvest Right Small Home Freeze Dryer
If you have a small household or won't be freeze-drying large quantities of food, this three-tray unit may be a better bet. It can freeze dry 4 to 7 pounds of food per batch, up to 195 gallons per year. This unit weighs 61 pounds.
Sold by Harvest Right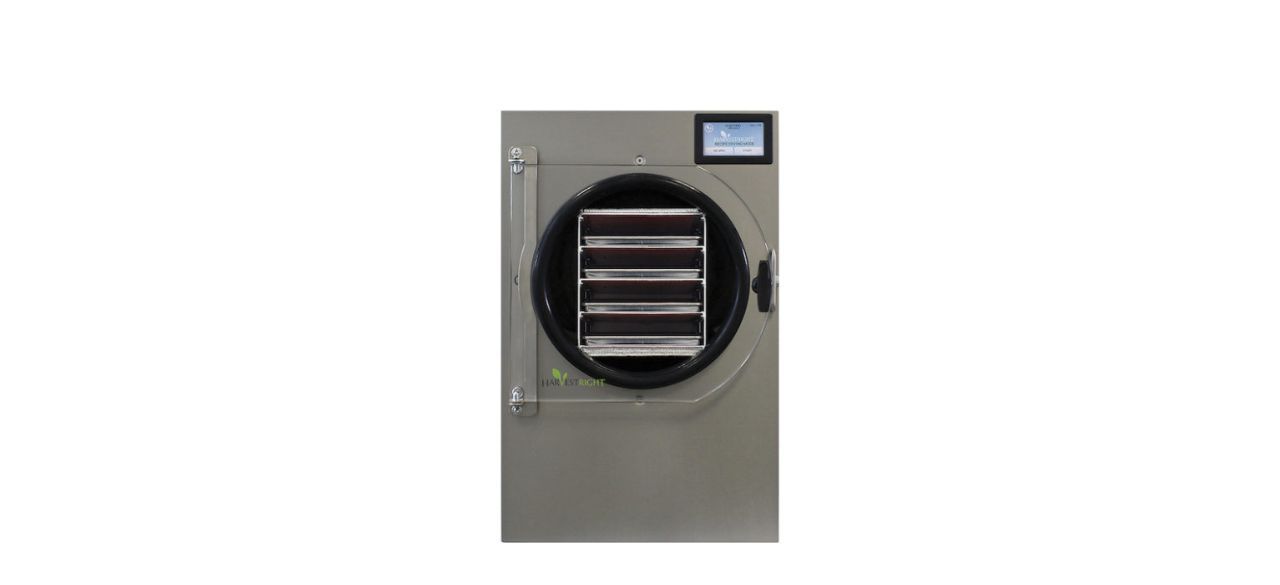 Harvest Right Scientific Freeze Dryer
This high-end machine is a step up from the previous Harvest Right models. Although it's designed for laboratory use, it'll work well at home, too. With this freeze dryer, you can control the freezing rate and temperature for more customizable results. The four-tray dryer can freeze as much as 6 to 10 pounds of food at once.
Sold by Harvest Right
Best dehydrators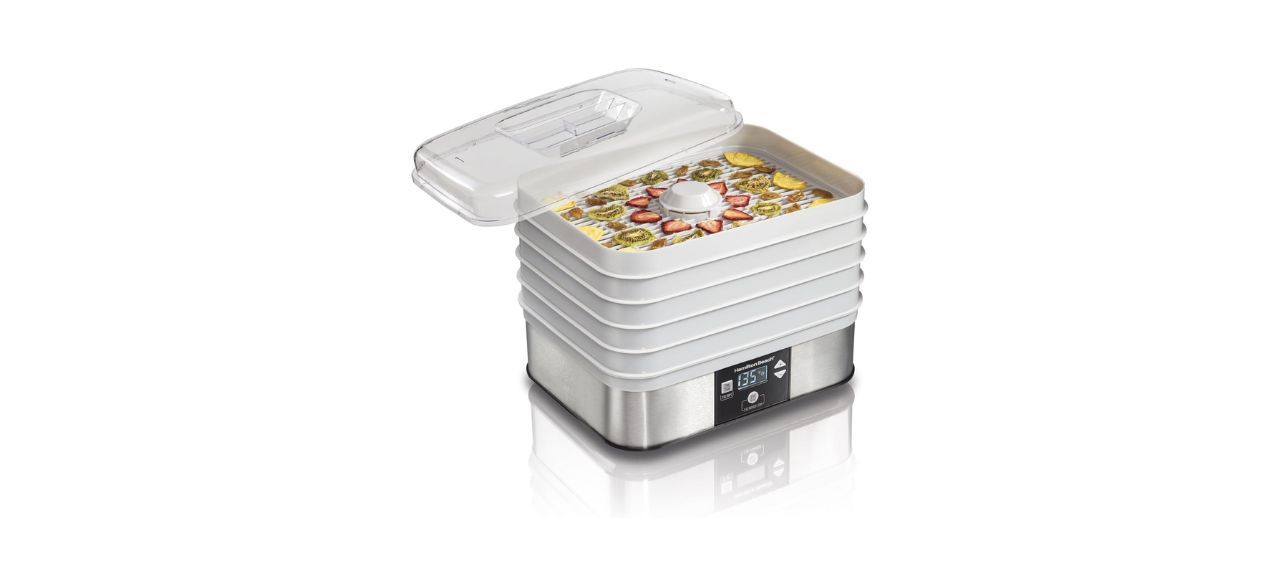 Hamilton Beach Digital Food Dehydrator
This five-tray dehydrator features a 48-hour timer, auto shut-off and an adjustable digital thermostat. The 8-pound unit comes with a fine-mesh sheet for drying small food and a solid sheet for making fruit rolls.
Sold by Amazon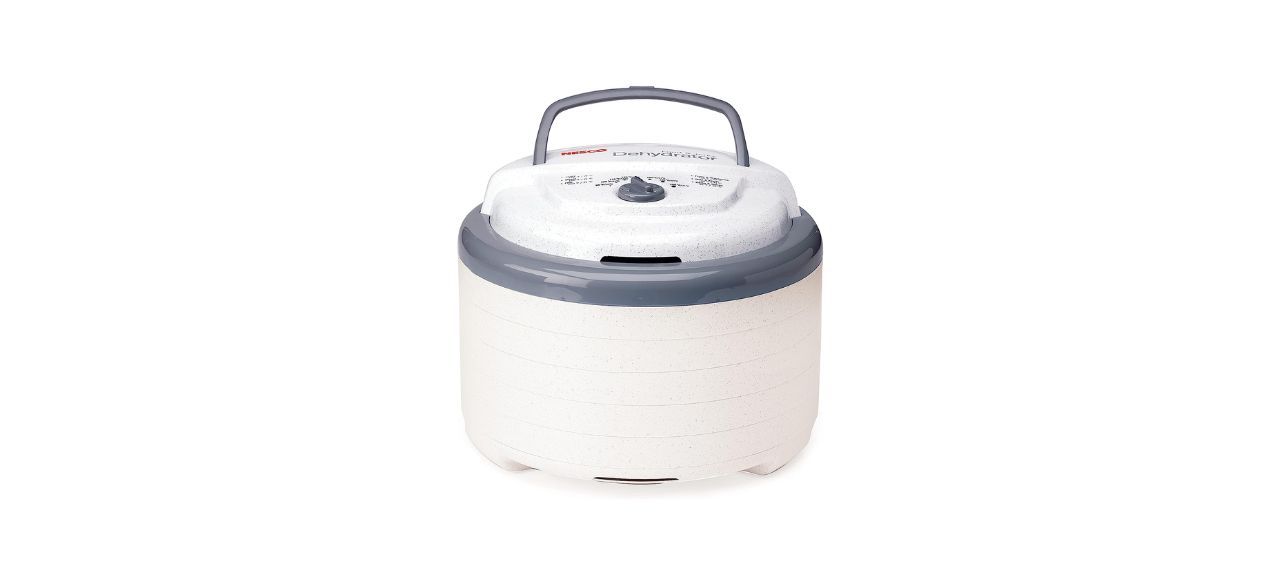 Nesco Snackmaster Pro Food Dehydrator
This dehydrator comes with five trays but is expandable for up to 12 trays if you want to dehydrate more food at once. It weighs less than 8 pounds and has adjustable temperature control. The dehydrator includes two fruit roll sheets, two fine-mesh sheets for drying small food, a jerky seasoning sample and a recipe booklet.
Sold by Amazon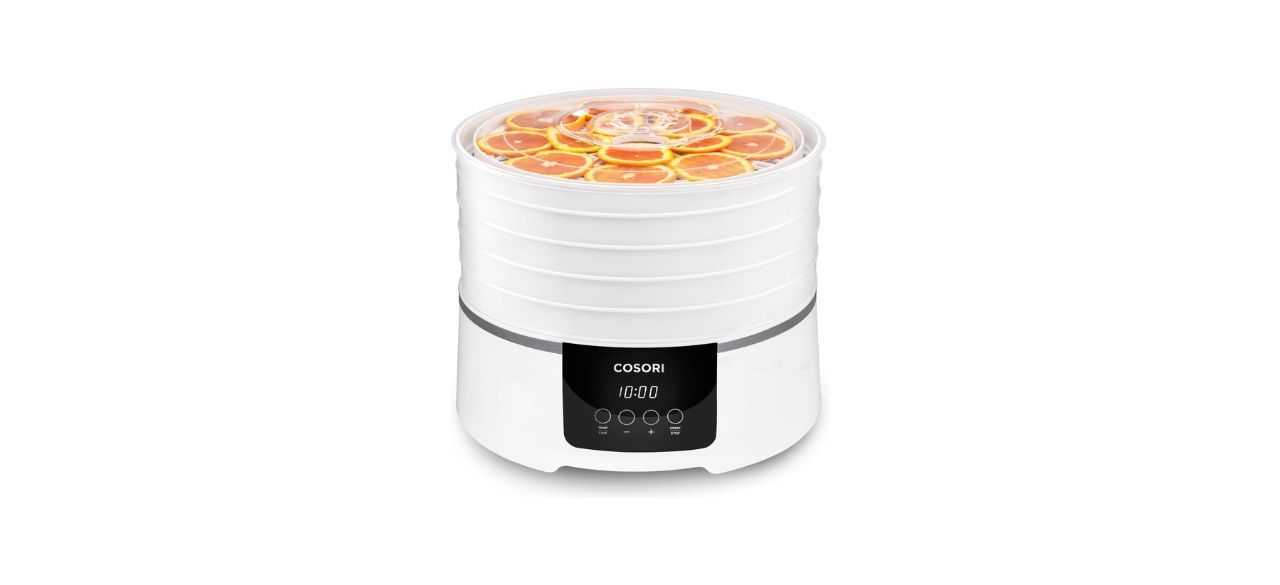 This dehydrator includes five trays, a fine-mesh screen, a fruit roll sheet and a recipe book. This model weighs less than 10 pounds, featuring a 48-hour timer and auto shut-off.
Sold by Amazon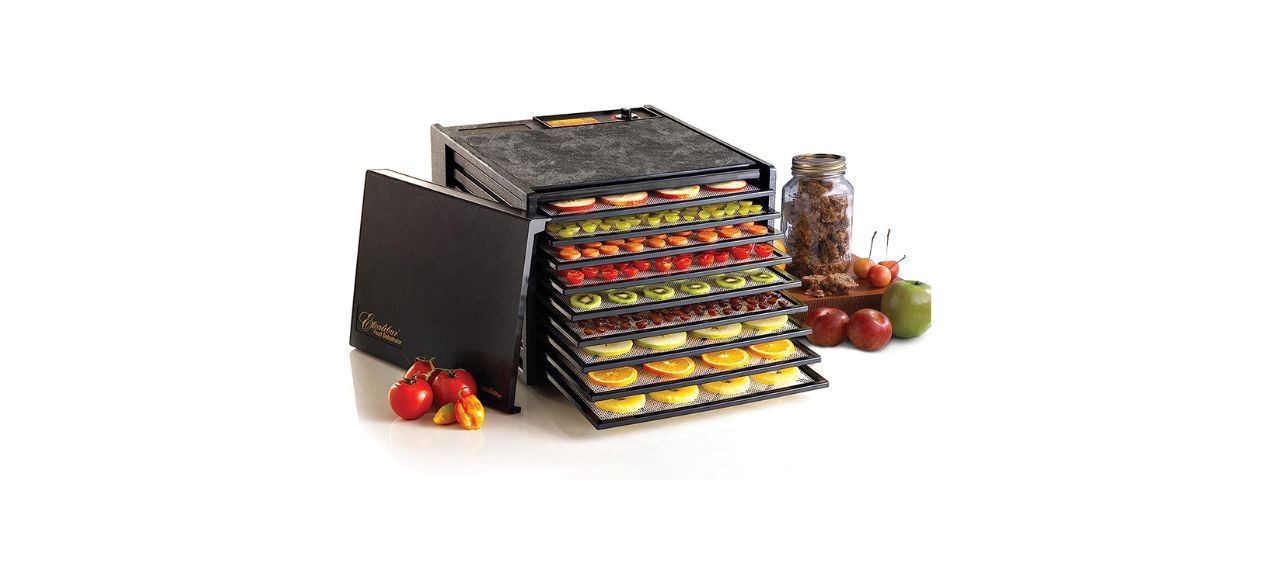 Excalibur Electric Food Dehydrator
This large-capacity dehydrator accommodates nine trays, which are included. The 22-pound model has an adjustable thermostat and auto shut-off. This dehydrator also comes with a recipe book.
Sold by Amazon
Want to shop the best products at the best prices? Check out Daily Deals from BestReviews.
Sign up here to receive the BestReviews weekly newsletter for useful advice on new products and noteworthy deals.
Amy Evans writes for BestReviews. BestReviews has helped millions of consumers simplify their purchasing decisions, saving them time and money.
Copyright 2023 BestReviews, a Nexstar company. All rights reserved.