Jimmy Garoppolo hadn't played for Josh McDaniels in four years, and the coach was in the midst of a massive change in his own career. The two still had a good relationship, for sure, but it wasn't like they talked every week—and there wouldn't have been any sort of recruiting pitch for McDaniels to deliver at that point.
Maybe that's why Garoppolo remembers the text so fondly.
He got it before the January 2022 NFC divisional playoff game in Green Bay: Good luck. Pulling for you.
"It's simple things like that. … I haven't really talked to the guy in like four years," Garoppolo said Friday. "In the NFL, you meet a lot of people. A lot of different personalities—some good, some bad. When you find a good one and you find someone who really cares about winning and cares about you as a player, for him to send that text? He didn't need to do that. But I don't know, when you meet a good person, you like to keep them around."

Now, McDaniels will get to keep Garoppolo around for a while.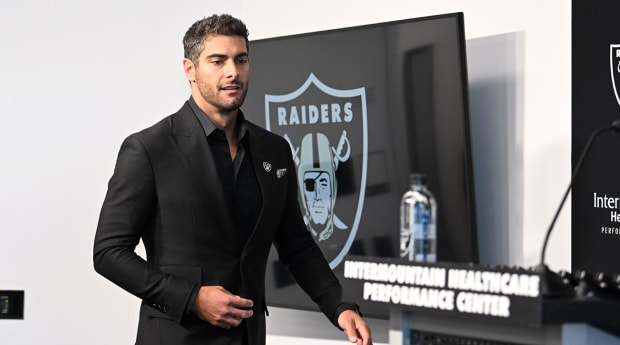 The Raiders finalized a three-year, $67.5 million deal with Garoppolo on Friday and, sure enough, that text message from 14 months ago was the first thing the new Las Vegas quarterback brought up to his old (new?) coach when the sides agreed to a deal earlier in the week. It makes sense, too, because Garoppolo's decision to go to Vegas, and Vegas's decision to turn to Garoppolo, were largely about the sort of ties that bind the two.
As Garoppolo sees it, he wasn't just coached by McDaniels over his three and a half seasons as a Patriot. He really was taught to be an NFL quarterback.
That's largely because, coming from a Baylor-rooted offense at Eastern Illinois and landing in a Patriots system that puts, more or less, everything on the quarterback, Garoppolo couldn't have had more room to grow. And it was McDaniels who was there with him in the trenches from the start, taking a straight-outta-college ball of clay and molding it.
"My college offense was so simplified," Garoppolo says. "We were running the Baylor stuff, where there's no thinking, you're just out there playing basketball, basically. So when I got to the Patriots, Josh and [now Raiders assistant] Jerry Schuplinski, too, they really raised me as a football player. It was the best thing for me. It was tough at times. I hated it at times, but looking back on it, it was the biggest blessing in disguise I ever had. And obviously got to learn from Tom [Brady], plenty of things there, too."
Garoppolo then laughed when I asked whether that made him a blank canvas for McDaniels and Schuplinski to paint on, coming from a place where even huddling was a foreign concept.
"So blank," he says. "We didn't have a playbook in college, man. I remember Josh running me through protections one of the first weeks, and I was like Dude, I don't even know what a protection is. Why are we talking about this? Won't the O-line handle that? That's how naive I was. I just didn't know. But that's … thank God I had Josh and Jerry and Tom."
Obviously, the quarterback the Raiders are getting now is much different than that one.
He's since started 57 regular-season games (two for the Patriots, 55 for the Niners) and six playoff games, having gotten San Francisco to two NFC title games and a Super Bowl. He's run up 14,289 passing yards, with 87 touchdown passes, 42 picks and a 99.6 career passer rating. He's also been through a laundry list of injuries and went through seeing his replacement (Trey Lance) drafted two years ago.
The Raiders, of course, took all of that into account before pulling the trigger last week. They took a swing at the first pick a few weeks back, but Garoppolo was really in their crosshairs from the start, for all the obvious reasons. McDaniels watched a lot of Garoppolo the last few years, in large part because of his respect for and desire to study Kyle Shanahan's offense. McDaniels saw improvement from the last time he coached Garoppolo, in 2017, and he also saw the same whip-like release, accuracy and ability to throw from tight spots as he had back then.
The big-game experience didn't hurt either, nor did the fact that Garoppolo was in a leadership role in San Francisco, which McDaniels and the rest of the guys in New England back then figured he'd fill well based on how he connected with all of his teammates. All of which made it easy for Vegas to make the call last week.
"They were one of the first groups to reach out and just talk to us in the early stages of it, and that kind of got me excited about it," Garoppolo says. "You start talking about the pros and cons of each team, and players and coaches they got. It all makes sense here in Las Vegas, I'd say. Just the further I went into the process, the easier the decision became."
And one of the biggest pluses? Getting back to the system that was so hard for him at first.
The McDaniels and Shanahan systems are, to be sure, vastly different. At a base level, Shanahan's system takes responsibility off the quarterback (the center makes the Mike and protection calls, for example) to allow for him to play fast, while McDaniels's system puts more on the signal-caller to command, well, everything out there, with the idea being that it'll make him a better problem solver when things go wrong.
Now, Garoppolo was sure to say how good both are. But it wasn't hard to tell how he felt about where he's going now.
"It's just more responsibility on you, as a quarterback, as a player," he says. "And when you have that responsibility of controlling the protection, controlling the run game, whatever it is, it's just … as a quarterback you want that. Or at least, I want that. It's a cool feeling when you're in control like that. It's hard to describe, but it'll be refreshing to get into that."
Garoppolo didn't say it, but, of course, it'll be refreshing in other ways, too. He won't be looking over his shoulder for the first time in a couple of years, nor will he have to hear nonstop speculation about his future from the outside. He'll have to stay healthy, of course, but he thinks there's still a level in his game he hasn't reached, and he wants to throw a better deep ball and clean up his footwork, specifically, this offseason to get there.
Very clearly, he's seen Vegas as the best to do it for a while now.
Garoppolo recalled McDaniels saying to him early in the 2017 season: I'm a young coach, you're a young player and you never know how this thing will go—we could meet up again. For the quarterback, it all got real on New Year's Day. Under doctor's orders to stay off his injured foot and not travel, he watched the Raiders-Niners game from home, seeing Jarrett Stidham starting and Derek Carr gone, and thinking, "the whole situation was a little weird."
That was when he let the idea creep into his head. And now, he's there, a different quarterback than he was in New England, but still carrying everything McDaniels liked about him back then.
"I think the maturity level, the respect for the game, all that stuff really went through the roof in San Francisco," Garoppolo says. "And yeah, I'm just trying to bring it over here, man, to keep growing. I don't want to stop learning. I think that's when you're really screwed in this league, is when you stop learning and think you know it all. So I'm just trying to keep growing and learn with Josh and all these guys out here."
As Garoppolo sees it, he couldn't be in a better place to do just that.