We're almost a week into free agency, and we've got some takeaways.
• It's been five days since Aaron Rodgers's appearance on the Pat McAfee Show, and, as of this writing, he remains a Packer.
I think with some time, cooler heads will prevail. But there were people in Green Bay a little worn out by the Rodgers drama the past couple of years, and those people certainly couldn't have been wild about the quarterback subtly taking a blowtorch (as subtle as you can be with a blowtorch, anyway) to the Packers' brass as publicly as he did.
Because of that, the Packers were never going to turn right around and say, Sure, Aaron, whatever you want. And, yet, soon enough, I'd think the mutual benefit to the Packers, Jets and Rodgers himself of getting the page turned will win the day.
The Jets can start their offseason program four weeks from today, by the way, which is the next big checkpoint in this saga, with the draft soon after that. I don't know if Rodgers will be there for that, but my guess would be he would be at OTAs in May to get going with his new teammates, which is something he hasn't done of late in Green Bay.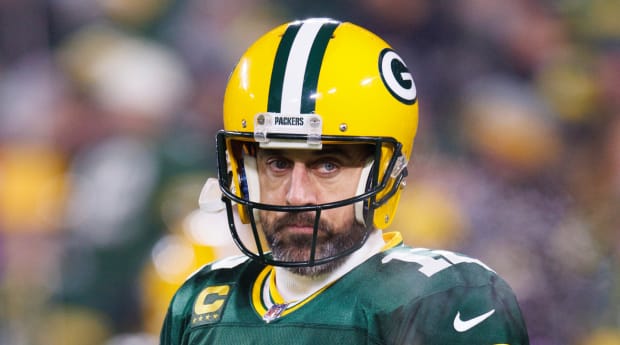 That is, presuming the trade happens.
• The trade market, to this point, seems pretty flat. Jalen Ramsey went to Miami for a third-rounder and a backup tight end. Brandin Cooks was acquired by Dallas for fifth- and sixth-round picks. The Cowboys also made a deal for Stephon Gilmore for even less (a fifth-rounder). The Giants landed Darren Waller for a third-round compensatory pick. And Chuck Clark, Jonnu Smith and Shaq Mason went to the Jets, Falcons and Texans for, collectively, a bag of pylons.
So what gives? Well, the last three guys were salary dumps. The others are all a bit older.
But there's no question that the trade market isn't as hot as it has been the past few years, and I don't think it's a mistake. Last week I wrote about how teams were less willing to pay top dollar for good-not-great quarterbacks. I think the idea now applies to the trade market, too—where if you have a guy who's older, or expensive, or flawed, it's going to be a little tougher to move him than it was with the trade-happy trend swinging back.
"I think we're all getting a little smarter, just in how business is done," one AFC exec said. "We're not giving up as many assets for a depreciating asset, or something you don't need, or slight improvement. Teams don't want to give up the cost. There's more value in the picks—it's cheaper labor, and it keeps you from overpaying for something."
To me, the Rams' subtle shift in approach over Sean McVay's time is probably more indicative of how it's happened. Early on, L.A. took a lot of swings, making deals to land guys such as Sammy Watkins, Marcus Peters, Cooks and Dante Fowler. Over time, they evolved to focus more on truly elite talents at premium spots such as Ramsey.
So with all this taken into account, it'll be fascinating to see what happens with Arizona's DeAndre Hopkins and the Broncos' receivers. At some point, you'd think those teams might decide the players would be more valuable to them than the return—from teams that might soon go sniffing around for a discounted rate on those guys.
• Remember when Laremy Tunsil lost $8 million (the difference in the contract of the sixth pick and the 13th pick in 2016) over the draft-night gasmask video? It's safe to say he's made up for it since—and done so simply by approaching his career as a businessman.
Tunsil was traded to the Texans at the end of the summer in 2019 and, for some reason, Houston didn't get him to agree to a new deal before handing over a treasure trove of draft picks for him. That gave him endless leverage the next offseason, when he was headed into a contract year, and he capitalized with a market-shifting, three-year, $66 million extension that brought home more than $57 million guaranteed. He was 25 when he signed it.
He's 28 and, with history repeating itself, was headed into a contract year, and in position to write his ticket a second time this offseason, whether it was in Houston or elsewhere. This time that added up to a three-year, $75 million extension that, again, reset the tackle market, will keep him a Texan for the foreseeable future, and put him in position—in the 2026 offseason—to do this again at 31 years old.
Here's the key: He's doing shorter-term deals.
Even the biggest NFL contracts usually don't have guarantees past the second year, and almost never have them past the third year. Because of that, adding fourth or fifth years to a deal allows a team to maintain control of a situation and put a cap on how much the player can make. In other words, it sounds nice to say a player got, say, a five-year, $100 million deal. But, if only $40 million of the contract is guaranteed, then the back-end years only work to the detriment of the player involved.
So congrats to Tunsil for understanding how this works and how to make the system work for him. Obviously, being a great player is a prerequisite for being able to pull something like this off, and Tunsil is one. But he deserves credit, regardless, and his case should be a template for other shrewd players going forward.
(By the way, it's still a good move by the Texans. If you got a first-round pick for Tunsil, you'd hope to get a left tackle that's 90% of what he is with that pick. So Houston keeping him makes sense, and especially so with a young quarterback likely to arrive in six weeks in the draft.)
• While we're on the tackles, the trade request from Cincinnati's Jonah Williams, which went in on Thursday night, was about him being displaced at left tackle specifically, I'm told, with the arrival of Orlando Brown Jr. from the Chiefs.
All 42 of Williams's starts as a pro have come at left tackle, and his final 29 starts at Alabama were at that spot, too. So the last time he played elsewhere was as a true freshman with the Crimson Tide—he started all 15 games at right tackle that year. And, obviously, Williams's comfort level on the left side, born of all that experience, is a factor here.
But so is his impending free agency in 2024, too. The Bengals' plan, when signing Brown, had been to flip Williams over to the right side, and figure out what to do with La'el Collins, who is coming off an ACL tear. It's easy to see where Williams would, justifiably, be concerned that switching spots could hurt his value, especially if it takes time to reacclimate on the other side of the line.
Now, I'm not really sure where Williams's trade value would be with a year left on his deal. What I do know is—if I were the Bengals—it would take a pretty nice haul for me to walk away from a quality starter on the line after the way the past two years ended.
• Two things stuck out about the week the Eagles just had.
One, it's impressive how disciplined GM Howie Roseman and his group are in looking ahead a year at potential holes, which was clearly evident in how you could look at the departures of Javon Hargrave and T.J. Edwards, and immediately see two top-100 picks on the roster from last year, in Jordan Davis and Nakobe Dean, already in place to take their spots.
Two, Philly's ability to hunt down deals is equally noteworthy. It let 2019 second-round pick Miles Sanders, a starter on its Super Bowl team, walk. He got a four-year, $25.4 million deal from the Panthers that has over $7 million in cash coming this year and $13.1 million due over its first two years. The Eagles replaced him with Rashaad Penny for a one-year, $1.35 million contract. And, sure, Penny's injury-prone, but his upside is probably greater than Sanders's.
Also, it's pretty wild that they'll get their core four back for another year. Brandon Graham (14th year), Jason Kelce (13th), Fletcher Cox (12th) and Lane Johnson (11th) have never played for another team. That, collectively, is a half century of experience with one organization between two offensive linemen and two defensive linemen, and has to be exceedingly rare.
• One under-the-radar defensive signing I like—former Steelers LB Devin Bush's landing in Seattle. Bush, even after being beat up (and having torn his ACL) earlier in his career, has speed to burn for that position, and should have plenty of opportunity with Jordyn Brooks coming off a late-season ACL tear, and Cody Barton off to Washington. Also, he should be motivated playing on a one-year deal and he doesn't turn 25 until July.
• One under-the-radar offensive signing I like—the Steelers' inking former Eagles OL Isaac Seumalo on Sunday. Steelers assistant GM Andy Weidl was with Seumalo for six years in Philadelphia, so he knows the guy inside and out, and Seumalo just spent those six years playing for OL coach Jeff Stoutland, which means he comes with a buttoned-up, professional game. The $24 million he got for three years, I'd bet, will wind up looking like a bargain.
• The Patriots' big moves thus far really represent a swap out—JuJu Smith-Schuster for Jakobi Meyers as the team's primary slot receiver, and Mike Gesicki for Jonnu Smith as the team's move tight end. They got better, as I see it, but I'd still wonder if they've got a bigger swing in them, being in the quarterback-on-a-rookie-contract window. Jerry Jeudy, who was in Mac Jones's recruiting class, still makes all the sense in the world. The question, to me, is whether Denver would take something that wouldn't include the Patriots' first pick.
Given where they are, you'd think that one, No. 14, has to be earmarked for a tackle, the same way their first-rounder in 2021 was earmarked for a quarterback.
• One gamble that hasn't worked—Cowboys TE Dalton Schultz betting on himself and playing on the franchise tag in 2023. Schultz had a three-year, $36 million deal at one point. I get why he'd pass that up. But the fallout hasn't been pretty. Schultz played on a $10.9 million franchise tender last year, and now he's unsigned and still on the market about a week into free agency.
• The Lamar Jackson saga could take some time to sort out. I still think the compromise is a shorter-term, fully guaranteed deal like what Kirk Cousins got on the market in 2018 (three years, $84 million), with a no-tag provision on the back end. And what should eventually bring the sides together is they each need each other, to a degree, because of how Jackson plays, and because of how the Ravens built the offense around him the past five years.
That said, a couple of people have pointed out to me that new Ravens offensive coordinator Todd Monken's only year as a full-time play-caller in the NFL was 2018, and that year his Buccaneers were second to the Chiefs in pass attempts. Which will make him an interesting match with Jackson, presuming the Ravens find a way to hang on to him.