NOV. 20 TAYLOR RAPP TESTS COME BACK NEGATIVE  Buffalo Bills fans can breathe a sigh of relief when it comes to Taylor Rapp's health. 
NFL insider Ian Rapoport reported that Rapp's tests for a neck injury all came back negative. Rapp was taken off the field in an ambulance in the first half of the Bills' 32-6 win over the New York Jets on Sunday at Highmark Stadium. 
He suffered a neck injury when he ducked his head down to make a tackle. After briefly standing up, Rapp went back down to the ground. Rapp was able to move his extremities and went to the locker room before being taken to the hospital.  
No other updates have been given on Rapp at this time. 
NOV 20 FIGHT! New video has emerged that shows some of what happened in the Bills vs. New York Jets brawl in the postgame tunnel after Sunday's NFL Week 11 32-6 win by Buffalo.
And now we have a better idea of who started the foolishness.
The near fight in question. Michael Clemons and Dion Dawkins have to be separated. Two big dudes almost locked horns. Spilled over from beef during the 32-6 Bills win. 📸 From my iPhone pic.twitter.com/P7xE0ADi3f

— Otis Livingston (@OlivingstonTV) November 20, 2023
New York defensive end Micheal Clemons opted to start yapping at Buffalo left tackle Dion Dawkins after the two conflicted on the field ... Clemons choosing to continue the conflict.
Related: 'Disrespectful!' Bills' Dawkins Reacts to Jets, Fight
"I'm a humble guy," Dawkins said. "I'm not a fan, man. I'm not a fan of the Jets. Like, very disrespectful players. It's what it is."
NOV 19 BILLS INACTIVES The Buffalo Bills and New York Jets have revealed their inactives for Sunday's meeting with the New York Jets at Highmark Stadium.
Here's who's out for the Bills:
- Damar Hamlin
- Poona Ford
- Alec Anderson
- Germain Ifedi
- A.J. Klien
Here's who's out for the Jets:
NOV. 17 BILLS FRIDAY INJURY REPORT After only having two players limited in practice on Thursday, the Buffalo Bills had every player practiced in full capacity on Friday ahead of Sunday's meeting at home with the New York Jets.
Defensive tackle Jordan Phillips (knee) and receiver Trent Sherfield (ankle) are the only players who enter Sunday with an injury designation, as they'll be questionable against New York. Cornerback Christian Benford and safety Micah Hyde, who were out in the Bills' 24-22 loss to the Denver Broncos on Monday Night Football, will play on Sunday.
Here's the rest of the Bills' injury report from Friday. 
The Bills (5-5) host the Jets (4-5) on Sunday at 4:25 p.m. ET at Highmark Stadium.
NOV. 17 BILLS-JETS SUPPOSED SHOWDOWN FIZZLES - Pre-Thanksgiving showdown. Josh Allen's Bills vs. Aaron Rodgers' Jets. AFC East on the line. Marquee game of CBS' late Sunday window at a time when the NFL starts separating its pretenders from the contenders ...
At least, that's how we once envisioned Sunday's game at Highmark Stadium. But back then, who figured we'd go into this one with Rodgers in street clothes and Ken Dorsey unemployed?
The 5-5 Bills still have a lot at stake against the 4-5 Jets, but it's more to stay in the playoff hunt while validating Sean McDermott's decision to fire his offensive coordinator in the wake of Monday night's debacle of a loss to the Broncos.
Josh Allen leads the NFL in touchdown passes and is fourth in yards. Stefon Diggs leads the league in catches and is second in yards and touchdowns. The Bills average 370 yards and 26 points per game, both in the Top 8.
None of that is surprising. But everything else about Sunday's supposed "showdown" will look unfamiliar as Rodgers lasted only four snaps and the Super Bowl-favorite Bills are merely hovering around .500.
NOV 15 BILLS THURSDAY INJURY REPORT The Buffalo Bills are getting healthier at their most pivotal part of the season. 
No player missed practice on Thursday for Buffalo ahead of Sunday's meeting with the New York Jets at home. Defensive tackle Jordan Phillips (knee) and receiver Trent Sherfield (ankle) were limited in practice on Thursday after not practicing on Wednesday. 
Here is the Bills' full injury report. 
NOV 15 BILLS WEDNESDAY INJURY REPORT The Buffalo Bills revealed their injury estimation from Wednesday's walk-through ahead of Sunday's meeting at Highmark Stadium with the New York Jets. 
The Bills listed two players as DNP, as receiver Trent Sherfield (ankle) and defensive tackle Jordan Phillips (knee) both would not have participated if Buffalo held a padded practice. Both players suffered their injuries in Monday's 24-22 loss at home to the Denver Broncos.

Here's the full injury report:
NOV 11 BILLS WR SHERFIELD OUT Buffalo Bills receiver Trent Sherfield injured his ankle in the first half of Monday's game against the Denver Broncos at Highmark Stadium and has been ruled out for the remainder of the game.
Sherfield reportedly went into the locker room following a Buffalo kickoff in the first half, though it's unclear if he was injured on special teams.
This season, Sherfield has just seven catches for 53 yards. He signed with the Bills as a free agent this past offseason.
The Bills trailed Denver 15-8 to begin the second half.
NOV 11 BILLS VS BRONCOS INACTIVES The Buffalo Bills have revealed their inactives list for Monday night's meeting with the Denver Broncos at Highmark Stadium.
Bills safety Damar Hamlin will be active for just his second game of the season.
Here's who's out for Buffalo:
- S Micah Hyde
- CB Christian Benford
- LB Baylon Spector
- OL Germain Ifedi
- OL Alec Anderson
- DT Poona Ford
Here's who's out for Denver:
- S JL Skinner
- TE Nate Adkins
- LB Ben Niemann
- LB Thomas Incoom
- C Alex Forsyth
- DT Keondre Coburn
- DL Elijah Garcia
NOV 9 BILLS REVEAL MNF UNIFORMS The Buffalo Bills will be under the bright lights of Monday Night Football looking a little blue. Well, actually, a lot blue.
The Bills revealed their uniform combination for their game on Monday against the Denver Broncos.
Blue on blue for MNF. 😍#DENvsBUF | #BillsMafia pic.twitter.com/rTCug6I1ZC

— Buffalo Bills (@BuffaloBills) November 9, 2023
The Bills and Broncos are set to kick off at 8:15 p.m. on Monday inside Highmark Stadium.
NOV 5 TERREL BERNARD RULED OUT  The Buffalo Bills announced that linebacker Terrel Bernard was evaluated for a head injury in the first half of Sunday's game against the Cincinnati Bengals at Paycor Stadium.
And prior to the third quarter, the Bills officially ruled Bernard out with a concussion.
Bernard has been downgraded to out (concussion). https://t.co/QlCMSKVacD

— Buffalo Bills PR (@BuffaloBillsPR) November 6, 2023
It's unclear when exactly Bernard was injured, but he was reportedly helped off the field by trainers and had a towel over his head. He finishes Sunday's game against Cincinnati with four total tackles and one QB hit.
Headed into Week 9, Bernard has posted 46 total tackles, two sacks, three fumble recoveries, four passes defended and two interceptions.
NOV 4 JOSH NORMAN ELEVATED FROM PRACTICE SQUAD Ahead of the Buffalo Bills' Sunday Night Football matchup against the Cincinnati Bengals, they elevated veteran cornerback Josh Norman from the practice squad for the second straight week. 
Buffalo signed Norman to the practice squad on Oct. 10. He played in his first game of the season on Oct. 26 in the Bills' 24-18 win over the Tampa Bay Buccaneers. Norman played five snaps on special teams and had two tackles.
Buffalo (5-3) faces the Bengals (4-3) at Paycor Stadium on Sunday at 8:15 p.m. ET.
OCT 30 BILLS WORK OUT TIGHT END The Buffalo Bills have a hole in their tight end room with Dawson Knox out with a wrist injury that landed him on the IR. 
With Knox out for for the foreseeable future, the worked out tight end Adam Shaheen on Monday, per reports from NFL Network's Tom Pelissero.
Shaheen was a second-round pick by the Chicago Bears in 2017, and spent the first three years of his career there. He also played for the Miami Dolphins in 2020-2021. He has 50 catches for 509 yards and seven touchdowns in his career. 
The Bills visit the Cincinnati Bengals on Sunday night.
OCT 29 JETS, DOLPHINS JOIN BILLS IN WEEK 8 WINNER CIRCLE The Buffalo Bills were on the couch Sunday, recovering after their win Thursday against the Tampa Bay Buccaneers.
They got to watch the Miami Dolphins beat the New England Patriots and the New York Jets pull out an overtime victory against their cross-town rival New York Giants.
The Bills remain in second place at 5-3, one game behind the 6-2 Dolphins and a 0.5 game ahead of the 4-3 Jets. The Patriots drop to 2-6 and remain last in the division.
OCT 26 GABE DAVIS TD VS BUCS Buffalo Bills receiver Gabe Davis found himself wide open in the back of the end zone for a four-yard touchdown in the third quarter of Thursday night's meeting with the Tampa Bay Buccaneers at Highmark Stadium.
Davis' touchdown, which is his fifth score of the season, gave Buffalo a 24-10 lead. He had nine catches for 87 yards by the end of the third quarter.
Take a look at the touchdown:
Gabe Davis' 3rd catch of the drive is a TD 🔥 @gabedavis13_#TBvsBUF on Prime Video
Also available on #NFLPlus https://t.co/E5pvHuys2o pic.twitter.com/sq7p1sUFHq

— NFL (@NFL) October 27, 2023
OCT 26 BILLS VS BUCS INACTIVES The Buffalo Bills have revealed their inactives for Thursday night's game against the Tampa Bay Buccaneers at Highmark Stadium.
Here's who out for the Bills:
- S Damar Hamlin
- CB Kaiir Elam
- TE Quintin Morris
- OL Germain Ifedi
- OT Alec Anderson
- LB Baylon Spector
Here's who's out for the Bucs:
- OG Matt Feiler
- S Kaevon Merritweather
- DL Patrick O'Connor
- RB Sean Tucker
- DL Vita Vea
- LB Markees Watts

- TE David Wells
OCT 26 KNOX TO IR The Bills might be ready to lean on rookie tight end Dalton Kincaid - starting right now. 
Veteran starter Dawson Knox, who has been ruled out for Thursday night's game against the Tampa Bay Buccaneers at Highmark Stadium, will be placed on short-term IR, per NFL Network's Ian Rapoport. Knox's wrist injury will require surgery, is now likely to be moved onto Injured Reserve. That will mean a four-game absence for Knox ... and a step-up requirement elsewhere on the Josh Allen-led offense.
OCT 25 BILLS DOWN TWO TIGHT ENDS The Buffalo Bills have ruled out tight ends Dawson Knox and Quintin Morris along with linebacker Baylon Spector for Thursday night's meeting with the Tampa Bay Buccaneers at Highmark Stadium. 
Knox will be out for the foreseeable future with a wrist injury that requires surgery. Morris, who was also out on Sunday, due to an ankle injury. Spector is dealing with a hamstring injury. 
With Morris and Knox out, that leaves Dalton Kincaid as the only tight end left on the active roster. Rookie tight end Joel Wilson is on the practice squad, so one would expect him to be a candidate to be elevated to the active roster for Thursday. 
The Bills (4-3) host the Buccaneers (3-3) at 8:15 p.m. ET on Thursday.
OCT 23 WOUNDED BUCS? The Tampa Bay Buccaneers have a short week to prepare for the Buffalo Bills ahead of their Thursday Night Football matchup. ... and as of Monday, they've got issues.
The Buccaneers did not have a full practice, but they "estimated'' that Baker Mayfield would have missed the session with a knee injury. Also listed as DNPs: Receiver Chris Godwin (neck), guard Matt Feiler (knee), defensive tackle Vita Vea (groin), and safety (Kaevon Merriweather).
The Buccaneers are 3-3 and trying to stay in the NFC South playoff race after having lost 16-13 loss to the Atlanta Falcons last week. The Bills are 4-3 after being upset by the Patriots.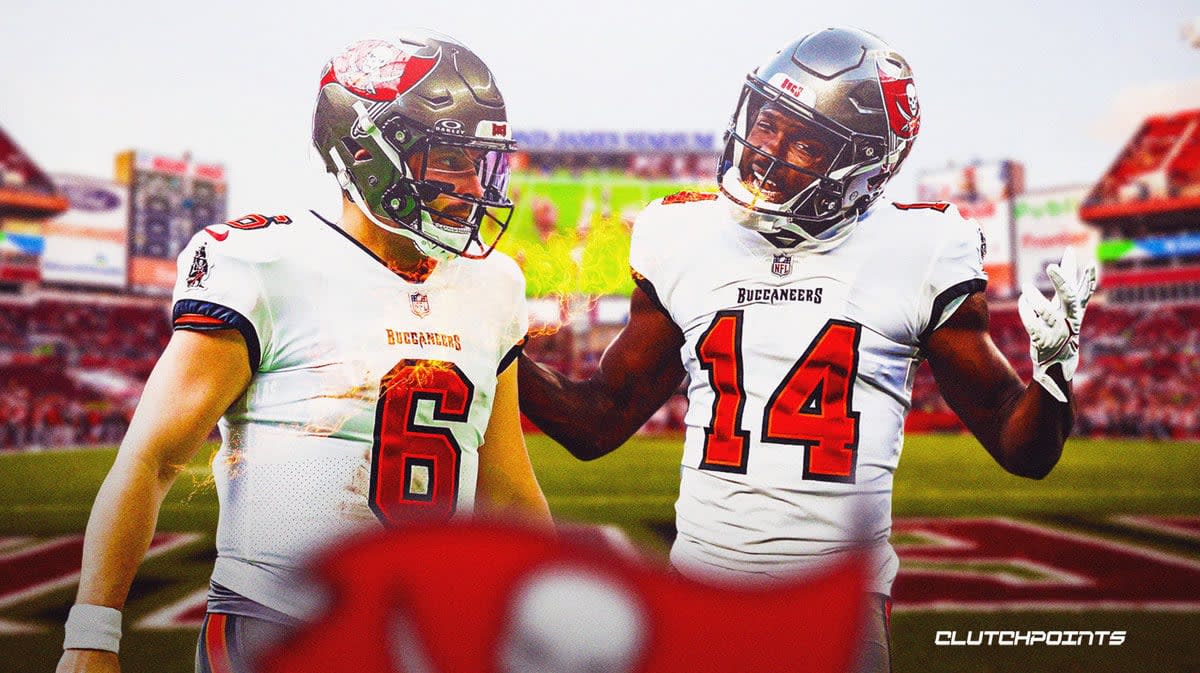 IF Mayfield cannot go, Kyle Trask would be the likely starter at QB for the Bucs.
OCT 20 BILLS MAKING MOVES The Buffalo Bills are making roster moves ahead of Sunday's meeting with the New England Patriots at Gillette Stadium.
The Bills announced Friday that they've signed running back Ty Johnson from the practice squad to the active roster and placed running back Damien Harris (neck) on IR. He's out for at least the next four games.
Johnson will now look to contribute to the offense as the third option in the backfield behind James Cook and Latavius Murray.
Johnson, a sixth-round pick by the Detroit Lions in 2019 out of Maryland, has posted 208 carries for 925 yards and four touchdowns along with 86 catches for 668 yards and three touchdowns in 62 career games.
OCT 19 INTERNATIONAL FLAGS You'll see some changes to some NFL helmets around the league for Weeks 7 and 8. Hundreds of players will add flag decals to their helmets representing the countries of their heritage.
The league has announced more than 330 players have committed to participate, representing 72 nations, with Nigeria being the most-represented foreign country, with 80 players committing to wear the Nigerian flag.
OCT 16 REX RYAN COACHING BRONCOS? Former Buffalo Bills coach Rex Ryan may find himself back in the NFL soon.
According to ESPN's Pat McAfee, the Denver Broncos could be looking to change their defensive coordinator, and Ryan could be in the mix.
Ryan coached the Buffalo Bills from 2015-16. He also has defensive coordinator experience with the Baltimore Ravens from 2005-08.
OCT 15 DAMIEN HARRIS INJURED Buffalo Bills running back Damien Harris had to be stretched off the field and moved into an ambulance in the second quarter of Sunday night's game against the New York Giants at Highmark Stadium.
"Harris (neck) is out for the game. He has movement in his arms and legs," the Bills tweeted. "Harris is being taken to hospital for further testing."
Harris took a hard hit late in the second quarter after converting a 3rd and 1 with the Bills trailing 6-0. He laid on the field for a while until being moved onto the stretcher.
Harris signed a one-year deal with the Bills this offseason after spending the first four years of his career with the New England Patriots. This season, he's posted 22 carries for 93 yards and one touchdown along with two catches for 16 yards.
Obviously, this is an emotional and scary moment for the #Bills…

Praying for Damien Harris.pic.twitter.com/yUweCu3TpU

— JPAFootball (@jasrifootball) October 16, 2023
OCT. 14 BUFFALO BILLS MAKE ROSTER MOVES AHEAD OF SUNDAY NIGHT FOOTBALL The Buffalo Bills have made two roster moves ahead of their primetime showdown with the New York Giants at Highmark Stadium.
Buffalo activated linebacker Baylon Spector from the Injured Reserve and they elevated cornerback Ja'Marcus Ingram from the practice squad. Spector began the season on the IR with a hamstring injury, while Ingram was also called up from the practice squad for Buffalo in Week 5.
With injuries to Tre'Davious White and Matt Milano potentially out for the season and Dane Jackson ruled out for Sunday, Spector and Ingram will provide much-needed depth. 
Buffalo hosts the Giants on Sunday at 8:20 p.m. ET at Highmark Stadium. 
OCT. 13 BILLS QUARTERBACK-RECEIVER ON SAME PAGE - Whether an angry response to a playoff loss, a brief minicamp boycott or slamming a tablet during last weekend's loss in London, it's clear by now that Bills' receiver Stefon Diggs is an emotional player. Quarterback Josh Allen, however, made it a point this week to put to bed any perceived "differences" between the two. In Allen's words, the characterizations are "nonsense."
With a couple days to cool down and turn his attention to Sunday night's home game against the Giants, Diggs thanked Allen for his support.
"I'm thankful to have a quarterback who has my back," Diggs said. "For other people, it's hard for me to put it in words how much time and effort goes into football and how serious it is out there. When things aren't going right and you put a lot on yourself and you want more for yourself, you want more for your team."
OCT 7 GOODELL HINTS AT NEW INTERNATIONAL SITES AFTER BILLS-JAGUARS As the Buffalo Bills prepare to do international battle with the Jacksonville Jaguars on Sunday in London (9:30 a.m. ET, NFL Network), NFL commissioner Roger Goodell is already looking ahead to the 2024 slate abroad. On Saturday, Goodell mentioned that representatives from prospective hosts will be on hand to take in both the Bills-Jaguars tilt, as well as the Baltimore Ravens' British showdown with the Tennessee Titans next week.
"We actually have three or four markets that are here this weekend and next weekend that are interested in hosting a game," Goodell said in a report from the Associated Press.
As for where those reps are coming from, the AP report says that Brazil's Rio De Janeiro and Sao Paulo are under consideration, as is Madrid in Spain. Buffalo's AFC East rival Miami has both Brazil and Spain listed as its "international home market," sharing the latter with the Chicago Bears. The Bills, of course, will face the Dolphins twice next season while they'll also face an undetermined NFC North opponent on the road.
OCT. 6 BILLS, JAGS FIRST AFC WINNING TEAMS TO PLAY IN LONDON - The last time the Bills traveled across the pond, they lost to the Jaguars in London in 2015 to continue what was a long playoff drought. But come Sunday morning at Tottenham Hotspur Stadium, they'll be one of the NFL's premier brands taking part in history.
There has never been a London game between two teams that went on to make the playoffs. Barring unforeseen injuries, the Bills are on track to make the postseason for the fifth consecutive season and their opponent - the Jaguars - are coming off a playoff season.
"It's a very real chance of that happening," said Cameron Hogwood, a London-based NFL reporter for Sky Sports. "It is another really nice storyline just to kind of put it in the history books. It does feel like a huge deal that Josh Allen and the Bills are coming over, because we're talking about legitimate contenders."
Tottenham Hotspur Stadium, a $1 billion facility that opened in 2019 with a capacity nearing 63,000, was a model used to build the new Bills Stadium that will open in time for the 2026 NFL season.
OCT. 1 TRE'DAVIOUS WHITE OUT FOR YEAR - Buffalo Bills cornerback Tre'Davious White is out for the season with a torn Achilles, coach Sean McDermott confirmed on Monday.
White went down in the third quarter of Sunday's 48-20 win over the Miami Dolphins at Highmark Stadium. He had to be carted off after showing tons of emotion, which was the early sign that the injury was likely serious.
In four games this season, White posted 12 total tackles, two passes defended and one interception.
OCT. 1 BILLS VS DOLPHINS INACTIVES - The Buffalo Bills and Miami Dolphins have both revealed their inactives for Sunday's meeting at Highmark Stadium. Bills safety Damar Hamlin is active and now set to make his season debut.
Here's who's out for the Bills:
- S Jordan Poyer
- CB Kaiir Elam
- OG Germain Ifedi
- OT Alec Anderson
- DT Poona Ford
Here's who's out for the Dolphins:
- QB Skylar Thompson
- LB Jaelan Phillips
- S DeShon Elliott
- CB Eli Apple
- OL Connor Williams
- TE Tyler Croft
SEPT 29 POYER OUT VS PHINS Buffalo Bills coach Sean McDermott said Friday that veteran safety Jordan Poyer will not play in Sunday's home game against the Miami Dolphins due to a knee injury. Poyer was did not practice on Wednesday or Thursday.
Per Bills insider Chris Brown, everyone else on the injury report is expected to play. This includes safety Micah Hyde, defensive end Leonard Floyd, cornerback Taron Johnson, offensive lineman Ryan Bates and defensive back Siran Neal.

SEPT 27 BILLS WEDNESDAY REPORT The Buffalo Bills have revealed their Wednesday injury report ahead of Sunday's contest with the Miami Dolphins at Highmark Stadium.
Here's who sat out of Wednesday's practice:
Wednesday injury report pic.twitter.com/saqgRIhwIq

— Buffalo Bills PR (@BuffaloBillsPR) September 27, 2023
The Thursday and Friday injury report will be telling for the status of each player. The Bills have been relatively healthy to start the season, so it's possible most of these guys could log a full practice before Sunday.
SEPT 21 CHRISTIAN KIRKSEY RETIRES, BILLS SIGN LINEBACKER TO PRACTICE SQUAD Buffalo Bills linebacker Christian Kirksey told the team that he plans to retire according to NFL insider Mike Garafolo. 
Kirksey had been on Buffalo's practice squad after he was cut by the Houston Texans during the preseason. The former linebacker finished his career with 778 tackles, 16.5 sacks and seven interceptions. 
After a successful nine-year career, LB Christian Kirksey has informed the #Bills he intends to retire, according to his agents. The 2014 third-round pick of the #Browns walks away after recording 778 tackles, 16.5 sacks and seven interceptions.

— Mike Garafolo (@MikeGarafolo) September 21, 2023
Garafolo also reported that Buffalo plans to sign A.J. Klen to the practice squad after Kirksey's retirement. Klein was on the Bills during the preseason before being cut.
SEPT 16 TAKEO SPIKES LEGEND OF GAME FOR WEEK 2 The Buffalo Bills revealed that former All-Pro linebacker Takeo Spikes will be the Bills Legend of the Game for Sunday's home opener agaisnt the Las Vegas Raiders.
"I remember the first day that I walked into the Bills' stadium for the season opener, and that was a magical day for me that I will never forget," Spikes said, per the team website. "What other better way to start than to come home and get the first win at home."
Spikes, who spent 15 years in the NFL, saw some of the best seasons of his career happen with the Bills. In 2004 with Buffalo, he was named an All-Pro and a Pro Bowler after finishing the season with five interceptions, four forced fumbles and two pick-sixes.
Spikes made the Pro Bowl in two of his four seasons in Buffalo.
SEPT 11 DRAFTKINGS 9/11 Monday marks the 22-year anniversary of the tragic terrorist attacks of Sept. 11, 2001. While it's an important day of remembrance for all Americans, it will always hit a bit harder for New Yorkers.
But instead of honoring the lives lost, popular sports betting company DraftKings used the anniversary as a way to make money by creating an insensitive "Never Forget" parlay that includes the New York Mets, New York Yankees and New York Jets. All three teams play on Monday night.
The Jets will be hosting the Buffalo Bills at MetLife Stadium in game that will bring tons of excitement due to the matchup, but also moments of emotion due to the anniversary and the fact that it's two New York teams playing each other on the anniversary of the attack.
DraftKings created this "Never Forget" 9/11 parlay featuring three New York teams.

It was taken down after several hours. pic.twitter.com/7crexkTfic

— Front Office Sports (@FOS) September 11, 2023
DraftKings eventually took down the promotion for the parlay and released an apology.
"We sincerely apologize for the featured parlay that was shared briefly in commemoration of 9/11. We respect the significance of this day for our country and especially for the families of those who were directly affected," DraftKings said.
SEPT 10 AFC EAST GOES 1-1 ON SUNDAY The Buffalo Bills and New York Jets' Monday Night Football affair will be a fight for a tie in first place along with the Miami Dolphins after their 36-34 win against the Los Angeles Chargers.
Dolphins receiver Tyreek Hill caught 11 passes for 215 yards and a pair of touchdowns in the win.
Meanwhile, the New England Patriots weren't as lucky in their 25-20 loss to the defending NFC champion Philadelphia Eagles. Mac Jones completed 35 of his 54 passes for 316 yards, three touchdowns and an interception.
The Bills and Jets kickoff Monday night at 8:15 on ESPN.
SEPT 9 MICAH HYDE ACTIVE VS. JETS Buffalo Bills safety Micah Hyde was the only player listed on the team's injury report ahead of Monday's opener against the New York Jets. But despite the back injury he was dealing with during the week that kept him limited on Thursday, Hyde was once again listed as a full participant on Saturday, as he's now set to be full go against the Jets.

#Bills S Micah Hyde, who was limited Thursday with a back injury, has been taken off the injury report and is good to go Monday night vs. the #Jets.

— Tom Pelissero (@TomPelissero) September 9, 2023
The Bills are looking quite healthy headed into Monday's opener, as they'll look to pull off the road win over Aaron Rodgers and company.


SEPT 8 BILLS REVEAL FRIDAY INJURY REPORT The Buffalo Bills have been preparing for life without star pass rusher Von Miller headed into Week 1 against the New York Jets, but the rest of the active roster looks to be in healthy shape for Monday's season opener at MetLife Stadium.
The Bills revealed their Friday injury report, which only had safety Micah Hyde listed. After being limited on Thursday with a back injury, Hyde was a full participant for Friday's walk-through. Had Buffalo held a padded practice, this means the Bills estimate that Hyde would've suited up in full capacity.
Friday injury report pic.twitter.com/NSK19mgY41

— Buffalo Bills PR (@BuffaloBillsPR) September 8, 2023
The Bills and Jets kickoff from MetLife on Monday at 8:15 p.m. ET.
AUG 30 BILLS ROOKIES FIND NEW HOME Two of the Buffalo Bills' 2023 seventh-round draft picks landed with a new team on Wednesday via the waiver wire, as rookie cornerback Alex Austin and rookie offensive lineman Nick Broeker were both claimed by the Houston Texans.
Broeker was the No. 230th overall pick by the Bills in April out of Ole Miss. Austin came shortly after with the No. 252nd overall selection out of Oregon State.
With rookie receiver Justin Shorter headed to short-term IR, the Bills will only have three of their 2023 draft picks on the active roster to begin the season.
Additionally, Bills safety and former Kansas City Chief, Zayne Anderson, was claimed by the Green Bay Packers. Bills offensive tackle David Quessenberry was released by Buffalo on Tuesday, but is now signing with the Minnesota Vikings.
AUG 23 TUA CHUBBY? The competition in the AFC East - with the pack chasing the Buffalo Bills - figures to be fierce, and Tua Tagovailoa is right in the middle of it.
But there is also a battle going on between ESPN analyst Ryan Clark and Tua after the media guy's recent criticism of the Miami quarterback's work ethic and offseason habits.
Clark's take on Tagovailoa? He "might have spent a lot of time in the tattoo parlor" this offseason but was "not at the dinner table eating with a nutritionist. ... He looks heavy," Clark said.
Tagovailoa's response? "It's a little weird when other people are talking about other people when they're not that person. ... I come from a Samoan family. Respect is everything, but it does get to a point where...little easy on that buddy. We're a pretty tough-minded people. If we need to get scrappy, we can get scrappy too."
Tua then added that he'd "appreciate it" if Clark could "keep my name out (of his) mouth."
AUG 19 PATS PRAYERS Following an abrupt and unexpected end to their preseason matchup on Saturday night at Lambeau Field, the the New England Patriots and Green Bay Packers were provided an arresting reminder that some things are bigger than the game of football - in a way reminiscent of the Damar Hamlin incident that the Bills remember all too well.
New England rookie cornerback Isaiah Bolden went down in a Saturday night preseason game at Green Bay after he collided violently with teammate Calvin Munson while attempting to cover Green Bay pass-catcher Malik Heath. He immediately fell to the ground after sustaining a hit to the head from Munson's elbow.
As members of both teams formed a prayer-like circle surrounding him, Bolden received medical attention. He was ultimately immobilized, placed on a stretcher and removed from the field on a cart.
"We're all saying a prayer for Isaiah," New England coach Bill Belichick said. "I appreciated the way the league handled it. I think that was the right thing to do."
What the league did - maybe learning a lesson from Hamlin's life-and-death situation late last season in Cincinnati - is to cancel the game.
AUG 19 TWO BILLS OUT FOR PRESEASON VS. STEELERS The Buffalo Bills have ruled out tight end Dawson Knox and linebacker Tyler Matakevich for Saturday's preseason game against the Pittsburgh Steelers, per multiple reports.
Knox has a finger injury, which could open the door for first-round rookie tight end Dalton Kincaid to get some valuable preseason reps. Matakevich (calf) was just taken off the PUP list this week, but doesn't seem ready for a return to the field just yet.
TE Dawson Knox will not play vs. the Steelers due to a finger injury. He's considered day to day.

LB Tyler Matakevich will not play either. He was just activated from PUP this week.

— Joe Buscaglia (@JoeBuscaglia) August 19, 2023
AUG 10 O.J. ON RUGGS Las Vegas Raiders wide receiver Henry Ruggs learned of his prison sentence on Wednesday. ... and O.J. Simpson isn't happen about it.
A judge sentenced Ruggs to three-to-10 years in prison after he pleaded guilty to driving 156 mph while under the influence on November. 2, 2021 in a crash that killed 23-year-old Tina Tintor and her dog.
"You're driving a car roughly 160 MPH on a public street and you kill a girl and her dog and you get three-to-10 years. (Meanwhile) you go to a hotel room where you're invited to retrieve your own personal stolen property and you get nine-to-33 years," Simpson said in another of his many awkward media video posts.
The math just does not add up. pic.twitter.com/7sCKLEdzyq

— O.J. Simpson (@TheRealOJ32) August 9, 2023
Simpson, the former Buffalo Bills great and Pro Football Hall of Famer, served nine years in prison on various charges after he was convicted in 2008 after an associate claimed that Simpson broke into his hotel room and stole sports memorabilia.
In 1997, a civil jury found Simpson liable for wrongful death in the double murder of his ex-wife, Nicole Brown Simpson, and Ronald Goldman, and was ordered to pay $33.5 million in damages to the Brown and Goldman families. Simpson has maintained his innocence in the infamous 1994 tragedy.